Welcome to our Company
Introduction to HUE PREMIUM SILICA!
Hue Premium Silica Company Limited (HPS) was established on September 25th, 2018, formerly known as a joint venture between Viet Phuong Investment Group Joint Stock Company (Vietnam) and Quarzwerke Company Limited (Germany).  On September 18th, 2019, it was transformed into a company limited with the sole owner being Viet Phuong Investment Group Joint Stock Company (VPG )
In Phong Dien District, Thua Thien Hue Province, Viet Nam, VPG currently owns the leading and high-quality sand reserve raw materials in Southeast Asia. The white sand mine has an area of 406 ha and has a geological reserve of over 28 million tons of white sand. The mineral composition is mainly silica (> 98%). The white sand at the mine has a good selectivity, being small to medium sized. The major particle grades (0.5 - 0.125 mm) account for an average of >85% and are very stable; Particle size> 0.5 mm and particle size <0.125 mm account for a small percentage. The average content of SiO2 > 99.6%; Al2O3 0,03% - 0,6%; Fe2O3 <0,01%; TiO2 < 0,02% ; Cr2O3 < 0,0001%. 
In February 2020, VPG is constructing a factory to process high-quality low-iron sand, silica powder in Phong Hien commune, Phong Dien district. The plant is designed to produce deep processing product lines with high surplus value from natural white sand. In the first phase of the project, HPS factory produces two product lines, silica sand with an iron content of less than 100ppm and silica sand with an iron content of less than 60ppm to provide input materials for manufacturing plants. High-class glass such as solar glass factory, TFT glass, tempered glass, super white glass in domestic and international market. Plant technology is designed and guaranteed copyright by a European group . In addition, the technology design is improved and closely monitored by the Quarzwerke Group (Germany).
After only 14 months of construction, the factory has officially come into operation from June 2021. Currently, HPS has been developing with the goal of becoming the world's leading supplier of high-quality sand, gradually the company has a stable market with strategic partners and is looking forward to expanding capacity to lead the market.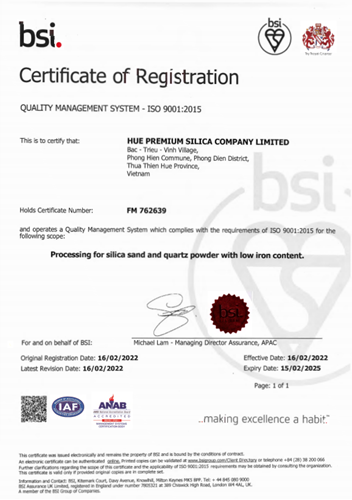 Vision
By 2025, to become the top supplier of high-quality low-iron silica sand and powder products to meet the domestic market and also to export abroad.

Mission
Constantly innovating, creating a great and leading partner of customers in industries, construction, glass, industrial additives, paint, water treatment, ...

Core Value
Constantly creating
Always accompanying
Sustainable development